Jost van Dyke is a small island in the Caribbean Sea, with a little over 500 inhabitants, might have the most well-known drinking beach in the world. It also happens to be a picturesque, palm-lined, white sandy beach with incredibly blue waters. For those that love the Caribbean in all its glory, including getting hammered on rum cocktails, White Bay Beach on Jost van Dyke comes close to perfection.
Painkiller comps
The big tourist draw is Soggy Dollar, where they invented the Painkiller cocktail (which is awesome). Great little bar, big smiles behind the counter and they serve a pretty mean Painkiller. They serve hundreds of them every day and it can get pretty busy. Luckily, there are a couple of other great little beach bars that might offer even better Painkillers. Those bars sometimes even let you pour it yourself, but that depends if the bartender feels like getting up or not. Yes, you are still in the Caribbean. Relax, man! I personally love the Painkiller at One Love as I prefer the rum they use.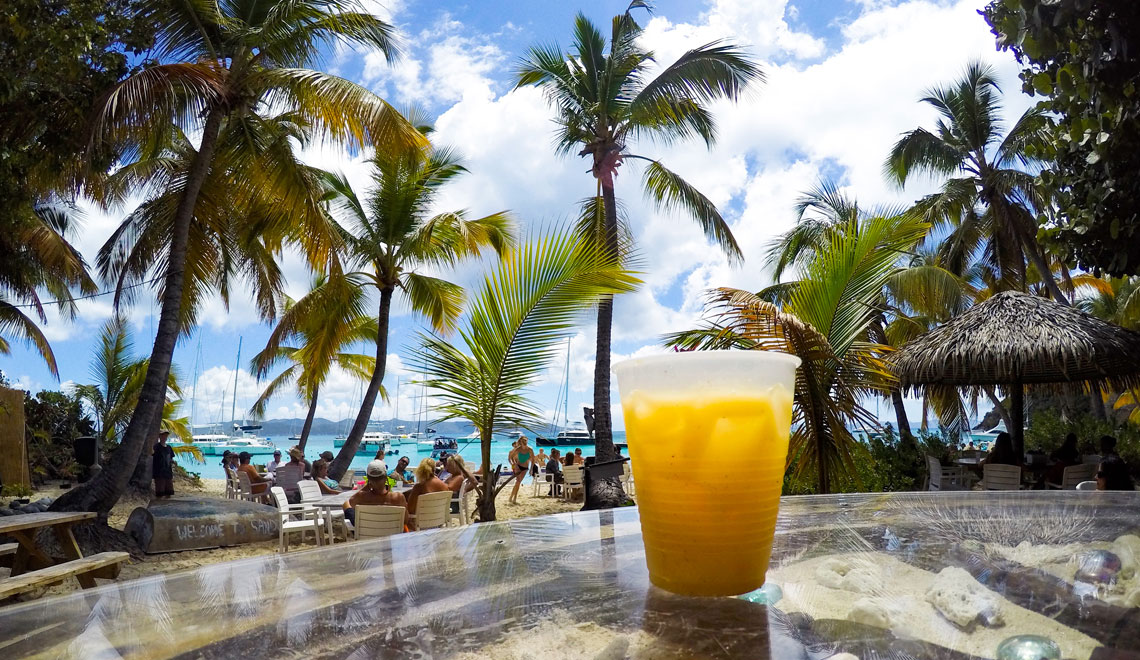 Americans can't
It is actually faster to get to White Bay Beach from the USVI than from most harbors in the BVI. When you are standing on the beach, you actually see more USVI. Then, you look around, and you notice you are surrounded by hundreds of yanks. It is quite the spectacle and it mostly features bikinis combined with cowboy hats, buffed up jocks, and big-bellied powerboat owners. Not that there's anything wrong with that. I personally love it! I plant myself in a beach chair or one of the hammocks, Painkiller in my hand, and I create my own little tv show. But, I can't help but wonder that if Dutch people would be overpopulating this beach (as we did back in the 17th century), what Soggy Dollar's turnover would be. Ten-fold, probably. Most Americans generally buy one drink, they throw it in a huge cup, nip at it all day, and after 2 hours, they start acting completely out of this world drunk. To each his own… but not the pirate way ;).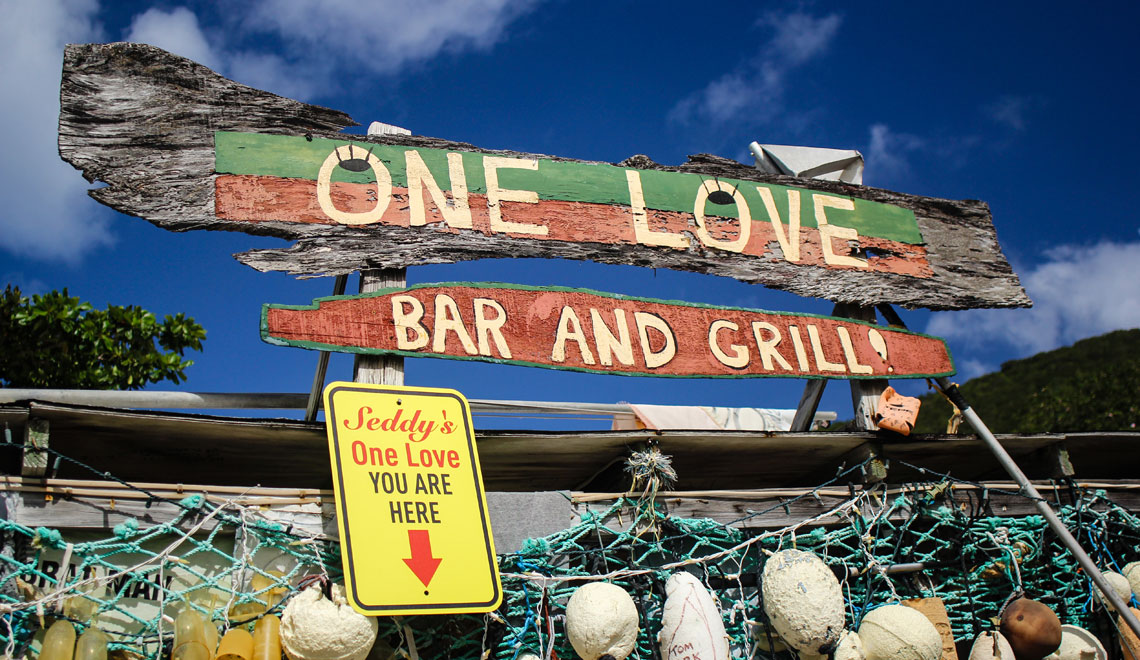 In need of a ship
There's is only one mode of transportation to get to White Bay Beach on Jost van Dyke and back, and that is by boat. Fortunately, there are several day trips that include White Bay in their package. They often stay long enough for a good lunch and a couple of drinks. Another way is to hop on the ferry from West End Tortola to Great Harbour. The ferry takes you there in about 15-25 minutes. From there you can walk over the hill or take a short taxi ride. You can ask the taxi driver to pick you up in time for the last ferry back (which is before sunset!). If you miss that one, or you plan on sleeping over, there are some nice cabins available, right on the beach.
Must Read: TOP THINGS TO DO IN THE BVI
Other articles you will probably love
---