I get a lot of emails from readers or people who stumble upon my website and like to know more about Curacao. Why should they visit? What should they do? Do I have any recommendations as to where to stay? As I called this island my home for 10 years, I could be the best person to ask. In this article, I will talk about spending a vacation in Curacao in Bandabou. This is the western side of Curacao, which is geared towards nature lovers.
Why should you vacation in Curacao in Bandabou?
Let's start with Curacao in general. Curacao is a relatively lesser-known island but gaining in popularity and I can't understand why it has taken so long for people to see the beauty of Curacao. Unlike most other Caribbean Islands, Curacao isn't just about the pretty sandy beaches but has so much more to see and do. The colorful Dutch colonial architecture on the Handelskade, the pristine diving sites, secluded bays, beautiful museums, and the vibrant people will make a vacation to Curacao one to remember. I enjoy living here but sometimes being caught up in everyday life, I forget how beautiful our island is.
The 3 sides of Curacao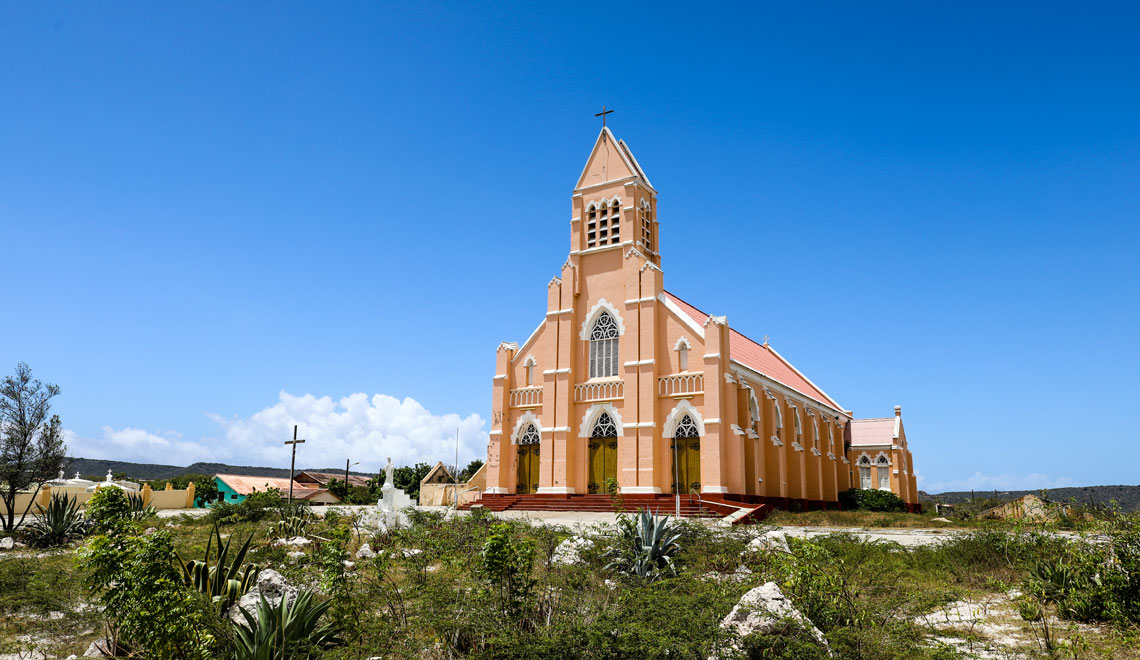 The island is basically divided into 3 parts, which all have something for every type of traveler. Better yet, try to do them all! The East is a great area if you like to shop, eat, drink or party. Downtown Willemstad has a rich history, beautiful colonial buildings and is great for the culture seeker. The West is for ultimate relaxation, romantic getaways, nature, birds, diving, and homes the picture-perfect beaches! They say you either love or hate Curacao. I still need to meet the first person who hated it.
For those who like to avoid the big crowds and wish to spend a holiday near the most beautiful beaches of the island, plan to go to Bandabou, which is the local name for the Western part of the island.
The stunning beaches in the West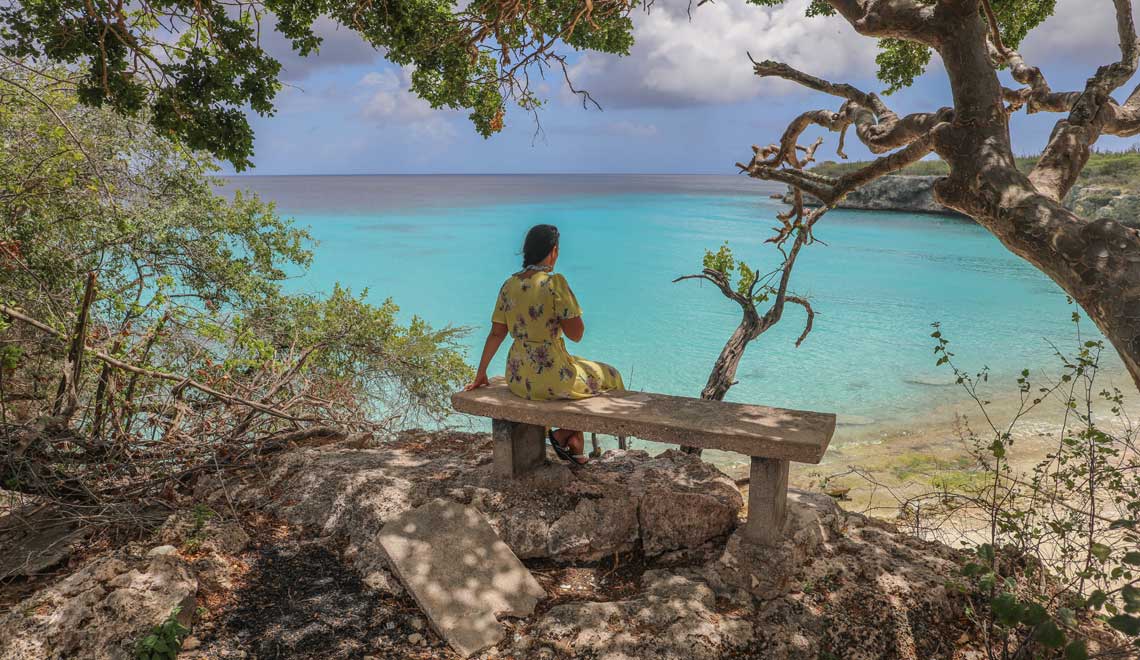 I like to spend my weekend on one of the many beaches we can choose from. Don't expect long stretched beaches. Curacao has rocky and rugged coastlines where you will find a number of gorgeous little bays. Such as Cas Abou beach, Porto Marie, Playa Lagun, Grote Knip & Kleine Knip and many more. The color of the sea is ridiculously blue; every picture you take will like one out of a magazine. Most beaches allow you to bring your cooler and BBQ along to have the ultimate summer day. Or buy a Dutch treat like french fries at one of the beaches with beach bars.
Learn more about how to get the best Caribbean vacation photos
Nature spotting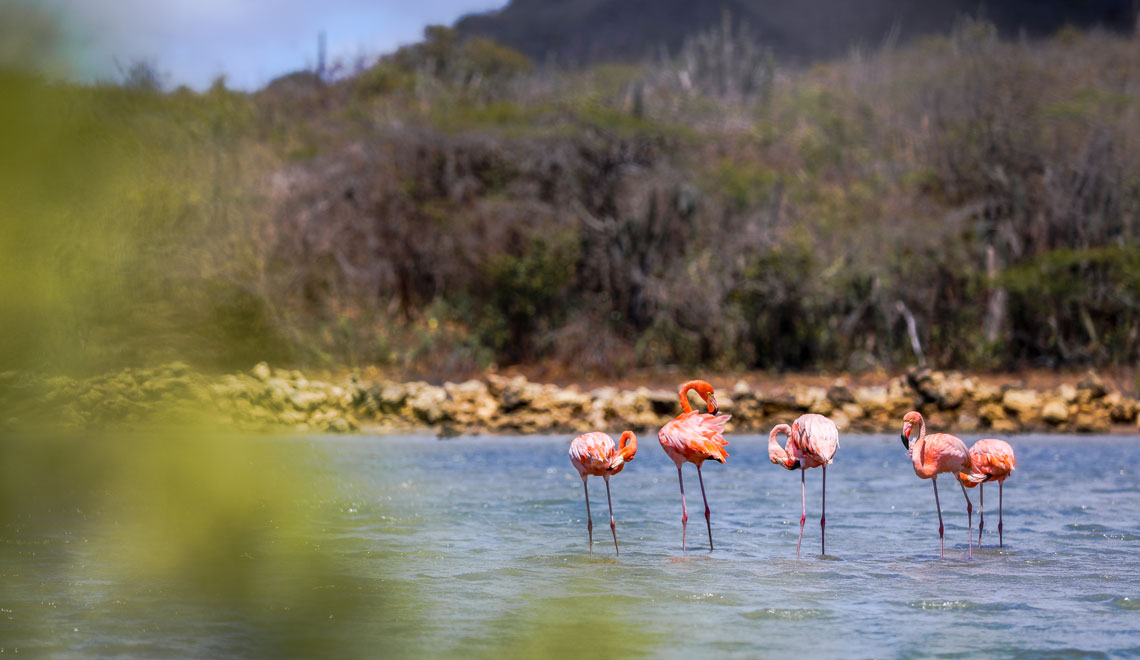 It's easy to forget and relax when you stay on this side of the island. You will pass just a few small villages but mostly you will see the typical Curacao nature. The island is pretty dry so don't expect jungle or palm trees all over. The island has a lot of cacti and agaves and here and there you will find mango trees alongside the road. Don't be surprised to see a flock of goats crossing the street as Curacao has lots of wild goats wandering around. And another pretty and common sight is the Wara Wara, one of our large birds of prey. Don't forget to stop at the Salt Plains in St. Willibrordus to see the colorful Flamingos! Spectacular.
Art shopping
The landscape is the perfect setting for an artist. Nena Sanchez knows all about that and has an incredible art gallery and shop in Willibrordus (on the other side of the road from where the flamingos are). Enter her colonial mansion and take home a beautiful souvenir of the island. She just captures the true beauty of our colorful island so well.
Shete Boka splashing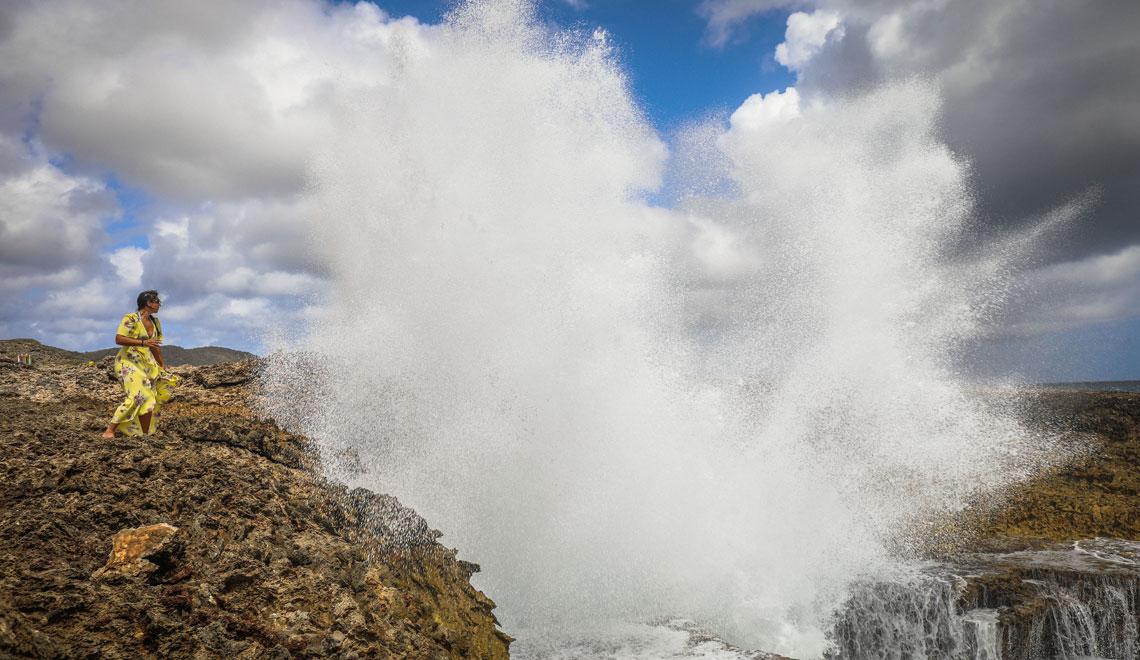 A must-do! This picture will give you an idea of what to expect. Tip: apply lots of sunscreen lotion as you will have to hike. Take the time to go to Boca Pistol, it is the main attraction but usually uncrowded because you have to hike for 20 minutes.
Snorkeling and Diving
Curacao attracts a lot of divers and snorkelers and rightfully so. The West is something else though, as it is mostly untouched. There are so many sites to see you can't do them all in just one visit. The dive school we recommend is Coral Divers at Coral Estate. Excellent diving with an easy launch at Coral Estate. They are also one of the few that offer boat dives, which enables them to take to some incredible hidden gems.
Where to stay in Bandabou?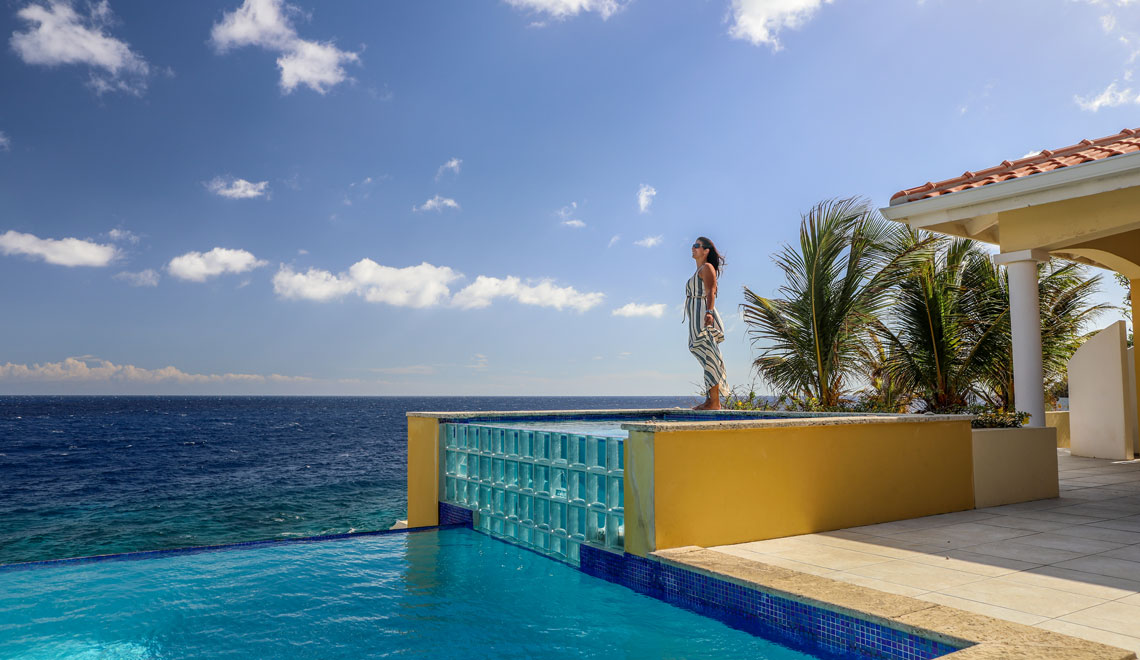 If all the above activities are what you are looking for, you need to book a stay in this area. We recently stayed at one of the villas at Coral Estate. You can't go wrong here. The resort is beautiful and it was such a delight to stay here for the weekend. They have various ranges of accommodations, all overlooking the sea. We stayed at one of the luxury beachfront villas.
If you do not like to have a cheesy tourist experience, or you are looking for a romantic getaway and somewhere that won't totally blow the bank? Coral Estate hits all the points!
Our stay at Coral Estate was perfect. Our villa was a decent size and my eye got drawn into the amazing view. Man, I can get used to that, I just love the ocean! The sliding doors opened up to the porch with an infinity pool, whirlpool and all you wanted to look at was the small waves rolling in. There are different types of villas to choose from and if you do not have the budget to rent a complete villa, they have stunning recently renovated sea view apartments and studios.
The resort features a dazzling private beach, dive center, restaurant, beach bar, communal swimming pool, and a Spa and Wellness center. It is situated in a magnificent natural coastal area where you will also find the saliña (salt plain), which is the feeding ground for those flamingos. So, even if you stay somewhere else, plan a visit.
Other articles you will probably love
---